Overview
Features
Specs & Downloads
The BasX S10 subwoofer is ideal if you need deep, clean, musical bass, and space is somewhat limited. The BasX S10 uses a heavy-duty long-throw 10" driver and an efficient 200 watt Class D amplifier to deliver bass response down to 27 Hz.

BasX Subwoofers: Performance, Power, and Simplicity

Our Emotiva BasX™ Subwoofers were designed to reproduce the lowest frequencies in the audio spectrum accurately and with exceptionally low distortion – even at high listening levels. This means that our BasX Subwoofers can deliver the dynamics and raw power you need to make a modern movie soundtrack sound truly monumental, but still offer the precision and musicality you need to get the most from well recorded music. With our BasX Subwoofers, you don't have to compromise; you really can have it all.

Our BasX Subwoofers come in three models: the S8, the S10, and the S12. Each model includes a heavy duty high excursion bass driver, powered by a high-efficiency Class D amplifier, and offers controls that allow you to configure it to work perfectly in conjunction with your main speakers. The various models offer identical controls and similar features; the main difference is that the larger models can produce higher output levels, and their frequency response extends even deeper.

The cabinets, which are quite compact for the performance they deliver, are built of heavy, acoustically inert HDF, and are covered in attractive yet durable textured vinyl. Sculpted removable grill cloths perfectly match the outline of the cabinets, and heavy duty integral feet provide support and minimize vibration. All controls and connections are conveniently located on the rear panel, which also provides cooling for the internal amplifiers.

BasX: The Foundation of a Superb Audio System

The goal of putting together an exceptional audio system is to enrich your life with outstanding sound. It's all about the music and the cinematic experience. It isn't about spending a lot of money, solid gold knobs, or jewel encrusted remote controls; and you don't need all sorts of complicated features you're never going to use. The key to building a great home audio system is to use well-designed components with excellent technical performance and superb sound quality. Every Emotiva BasX component has been designed from the ground up to be part of an excellent home audio system. They incorporate the latest cutting edge technology and all of the features you'll need to give you the best possible listening experience.

Why is BasX so special?

As a leading manufacturer of home audio equipment, we've noticed that a lot of people still don't have high-quality audio in their lives. Some folks don't have the budget to buy complex equipment, while others don't have the time to spend trying to figure out how to use it – and that's exactly why we developed our new Emotiva BasX products. Our BasX components combine great sound quality, a carefully chosen set of genuinely useful and easy to use features, rock solid performance, and simple yet elegant design.

The resulting components offer a combination you just can't find anywhere else – great sound, ease of use, and great value. All of the components in our new BasX line are priced to be within reach of every music lover. You don't need to be rich to afford them, and you don't need to be an engineer to figure out how to use them. They're carefully crafted to give you many years of reliable and trouble-free service, and they'll look great in your living room or in your equipment rack.

You can build a complete music system or home theater system out of our BasX components that will give you a true audiophile listening and cinematic viewing experience. Try adding one or two BasX components to round out your existing system. The path to great audio doesn't have to be expensive or complicated.

A Great Subwoofer For Both Movies And Music

The BasX S10 delivers plenty of deep, clean, musical bass to add a solid foundation to all your music, and make movies sound great, and still fits easily your living room.

Advanced long throw 10" bass driver, with a mineral filled injection molded polypropylene cone, large rubber roll surround, forced air cooling, and an all copper voice coil with a solid aluminum former delivers excellent bass performance.

A carefully tuned ported cabinet allows the driver to deliver plenty of output, while providing the precise control necessary to minimize distortion and deliver low frequencies with power and authority.

Heavy, acoustically inert HDF construction minimizes vibration and ensures that you hear only the music and sound effects you're supposed to hear – with no contribution from the cabinet.

Our tough yet attractive vinyl covering protects the cabinet on the BasX S10 from damage and fingerprints, and blends easily with your decor.

A powerful, efficient Class D amplifier offers the ideal combination of excellent sound quality, great long-term reliability, and high efficiency.

The BasX S10 includes Volume, Phase, and Crossover controls that help you configure it to integrate perfectly with your main speakers. The BasX S10 can be configured to turn on automatically when the music starts playing, and includes advanced protection circuitry to prevent damage if you accidentally overdrive it.

Full three year warranty ensures that you'll be able to enjoy your BasX S10 for years to come.

Driver Complement

10" long throw low frequency driver with injection molded mineral filled polypropylene cone, large rubber half roll surround, 1.5" copper voice coil on a solid aluminum former with flat spider, vented motor assembly with forced air cooling, woven tinsel leads.

Cabinet

Construction:
Heavy, acoustically inert, window braced HDF cabinet with integral rubber feet, removable black fabric grill cloth, and tough attractive black vinyl exterior finish.

Enclosure Loading:
Tuned cabinet with slot-loaded rear port.

Electrical Specifications

Amplifier type: High efficiency Class D.

Amplifier power: 200 Watts RMS.

Inputs: LFE or summed left and right; unbalanced.

Controls: Crossover, Phase, Volume.

AC Power: 100-120V/60 Hz (2.5A fuse); 220-240VAC/50 Hz (1.25A fuse).

Acoustic Specifications

Frequency response: 27 Hz – 150 Hz (+3/-3 dB).

Mechanical

Dimensions:
15-1/4" high (feet add 0.5 inches) x 14-3/8" wide x 15-7/8" deep (unboxed).
21″ x 21″ x 23″ (boxed).

Weight:
47 lbs (boxed).
35 lbs (unboxed).

Downloads
Audio Built for You
We invest heavily in quality, design, and engineering to assure you that every Emotiva product will deliver best in class performance.
30 day risk free trial
No-hassle return policy. We'll issue you an RMA number with the return instructions.
Systems that work together
Every Emotiva product has been designed and engineered to work seamlessly together.
Customer Reviews
Write a Review
Ask a Question
This is an awesome subwoofer.
This is an awesome subwoofer. I have used to set up my 2.1 stereo system. Fills the room and makes the sound so rich. I just love it.
Good sound
A few years ago I decided buy me a good sound sistema. I was thinking in a mono block power amplifier, but they are to expensive and I find Emotiva Today I have 4 mono block,preamplifier and much more, all emotiva. The most important is not a expensive equipment,but a good room to play it. The result is incredible. Hight ****** sound for the price. Emotiva I highly recommend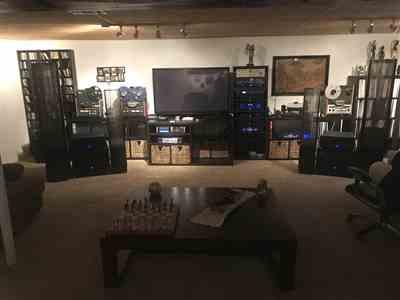 Amazing!
It arrived last week and after setting it up it was clear this was way better than the 12' Polk PSW125 I was previously using. Perfect addition to my Yamaha receiver and KEF Q300's. I have it connected using the LFE input and the gain setup to about 60% - 70% and when a movie is on the entire house rumbles and especially at low frequencies. Sounds clear, not boomy at all and can easily handle whatever I throw at it. I was on the fence about this model of a Klipsch unit that had similar specs but the Klipsch was $50 more. After hearing the Basx S10 I don't think I'll ever purchase a sub from another company. Can't wait to try other Emotiva products as well. Also shipping was fast. Arrived at my door on two days after placing the order.
*All reviews have been incentivized