Emotiva X-Series
Exceptional electronics for the discerning listener.
Our finest line of products - audiophile music and home theater components that take on the best without breaking your budget.
The highest level of excellence in home theater and audio.
When we set out to create the X Series line, we started by analyzing every component of our previous products, from front to back and inside out, based on our years of experience and all of the advances in audio technology since we began, to see what inspiring new ideas and opportunities for improvement we could find.
Based on this extensive research, we've made some exciting changes to our amazing originals, and the result, ladies and gentlemen, is the Emotiva X Series. Today's high-resolution audio sources place more demands than ever before on electronics, source components, and loudspeakers, but our X Series products are designed to make all of your high-quality source material sound its absolute best.
Our X Series products are perfectly suited to deliver great performance in both music and home theater systems.
True Audiophile Sound Quality
Pure Class A/B Output Stages deliver true audiophile sound quality
Highly Optimized Thermal Designs
Soft Switch™ Class H power supply topology enables our X Series amps to operate at higher efficiency than previous designs, reducing heat and extending component life significantly.
3kW Power Supply
Our powerful 3 kW switch mode power supply (SMPS) is far more efficient than older designs, weighs less, and is regulated - something previously only dreamed of in power amps.
Perfectly Suited for Outstanding Performance
High-resolution audio demands more of your system than ever before, and our X Series components are up to the challenge.
Make the most of your collection and discover the subtle details you've been missing in your favorite performances and albums. Our X Series components are optimized to work together seamlessly and deliver the highest level of performance with all of your audio sources - CD players, turntables, cable boxes, gaming systems, DACs, and more.
The X Series consistently delivers a level of sound quality that matches the high quality of modern digital files, as well as breathing new life into your analog media. Our DACs enable you to hear the most subtle details in your high-resolution music with stunning clarity, and help even streaming audio sound the best it possibly can, and our precision low-noise phono preamps are perfect for connecting a turntable to any product equipped with aline-level RCA input.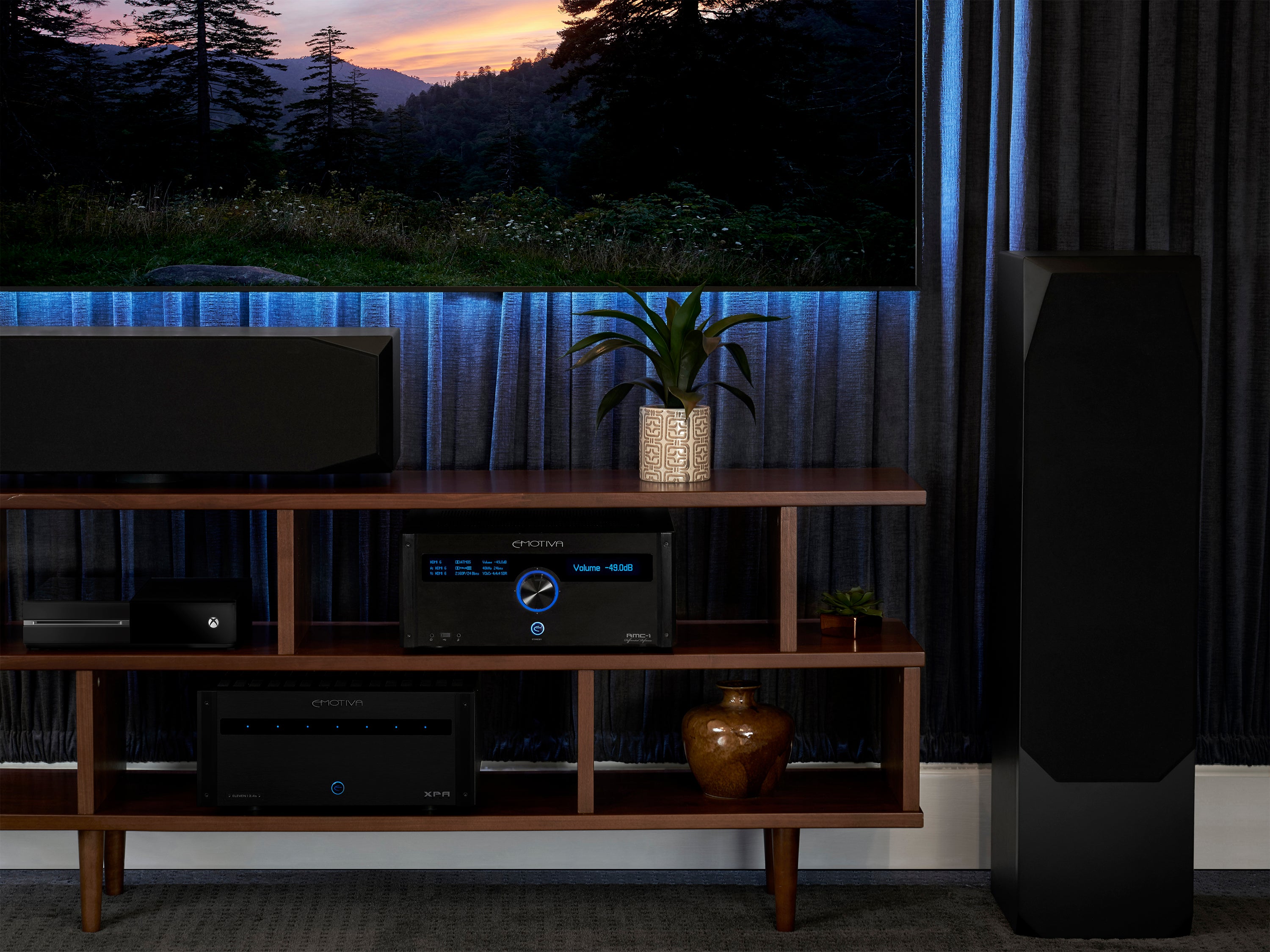 High Power, High Efficiency, High Fidelity
The Emotiva X Series is designed with no compromises, and built to exacting standards, to consistently and efficiently produce high-powered, high-fidelity sound. No waste, no noise, no distortion - just pure sound, exactly how it's meant to be.
With Emotiva, every sound, note, and instrument is separated and clearly defined, and the deep bass you didn't even know was there reverberates within you. Our products get out of the way of the sound, letting you rediscover and reconnect with your collection on an emotional level not possible with lesser systems.